DOORS
Armored entrance doors, interior doors, custom-designed furniture and stairs from the manufacturer
25+ YEARS
Manufacturing doors

since 1996
FROM 15 DAYS
The deadline for order is fixed in the contract
30 YEARS
Official guarantee for a metal structure of door
UP TO -45%
Discounts on ready-made doors and furniture
Where experience combines with technical capabilities, a truly high-quality and exclusive product is formed
Fort Lock is a family business where the highest craftsmanship is lovingly produced. The quality of our products is guaranteed by the company's impeccable 25-year reputation.
We select only the best materials, safe technologies and modern solutions. A door is a long-term investment that influences the atmosphere of your home. We provide premium products, all kinds of related services and the most attentive customer care.
WHY CLIENTS CHOOSE
FORT LOCK
We cover the curved metal profile door with two sheets of steel 2-3 mm, reinforced with a strapping channel and 2 mm thick stiffeners. The total blade of door is 93 mm. All doors comply with the mandatory requirements of state standards of Ukraine
Protection from cold and heat, sounds and odors thanks to 2 gasket circuits and 4 layers of insulating materials: foam plastic, Fomisol foil backing, ISOVER mineral wool and overlays. It also holds fire resistance for 30 minutes
In the decoration of the outer and inner parts of the door, we use 22 mm lining made of solid wood (ash or oak) or high-quality MDF. We do: toning, patina, double-glazed windows, molding, three-dimensional elements, carving, forging.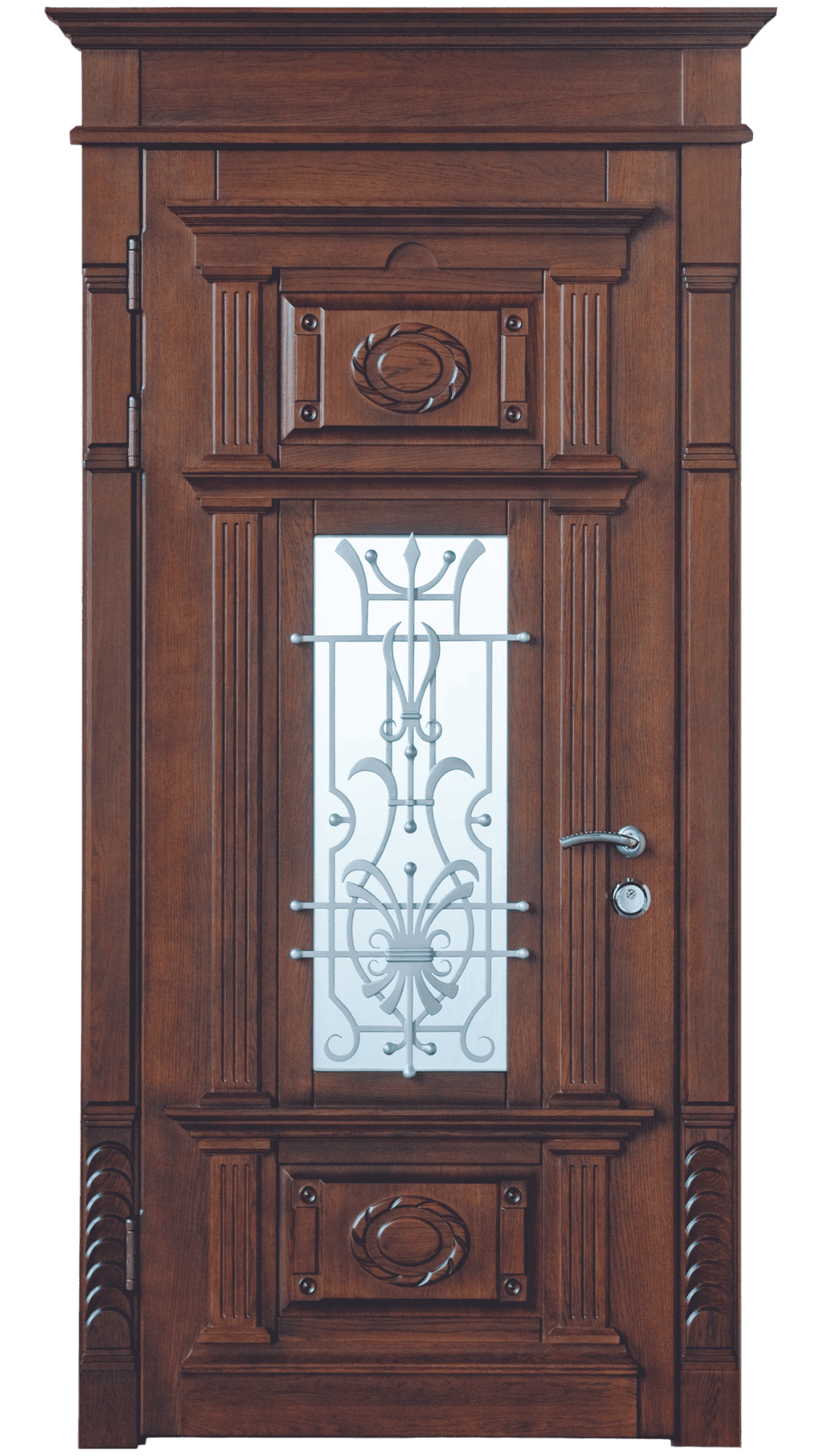 To avoid opening the door by cutting the hinges, we have provided 8 (!) anti-shear elements in the door construction. At the site of lock installation, we attach plates and elements of protection against vandalism and burglary
Door frame (125 mm) made of 5 solid bending profiles
2 mm thick. We fill the inner cavity with mineral wool and close it with a sheathing strip reinforced with stiffening ribs for additional torsional rigidity
to protect against attempted burglary.
Thanks to the vertical adjustment of the canvas and the clamping of the canvas, installation and operation in houses of any type, including houses from a log house and according to Canadian technology, is possible. Internal doors (apartments) and external 
As standard, we install a two-system (2 keys) mortise lock of new generation IV (highest) security level "MOTTURA 54.797" (Italy) with a shutter-locking system for the lever and main section of the lock, which has more than two billion code combinations. The lock has two vertical rods, to which additional bolts are attached, which move 22 mm simultaneously with the main bolts.
At the request of the client, we install locks and mechanisms of any complexity (electronic, electromechanical, mechanical, etc.). For maximum safety, we equip the locks with super-strong manganese pads that prevent drilling. Each door design is matched with its own, individual fittings (including handles, armored linings, peepholes, etc.) from well-known world manufacturers.
WE CONTROL THE QUALITY OF WOOD
We harvest the tree in the Vinnytsia region (Ukraine). 
All timber is subject to radiation and hygienic certification. Poor drying of wood can lead to deformation of the finished door, and therefore we dry wood exclusively in our own drying chambers with electronic control and monitoring
.
The wood is filled with an antiseptic. We use oils, oil waxes, paints and varnishes from German manufacturers (OSMO, REMMERS), you can choose any shade according to RAL. 
We send our clients free samples of materials and paints
.
4 STEPS TO SAFETY YOUR HOME
10-30 minutes
CONSULTATION
& CALCULATION
We will calculate 2 cost options: optimal and minimum, exact terms. We offer ready-made solutions or an individual project. Any size and design
from 60 minutes
MEASUREMENTS
& CONTRACT
Measurements are our responsibility. We will sign the documents in our salon or at your home. We will bring it in person, send it by Poshta or e-mail
from 15 days
PRODUCTION
& INSTALLATION
Our prices are lower due to the full production cycle from timber drying. Only certified materials (Germany, Italy). Delivery in Ukraine and Europe
1 / 30 / unlimited
WARRANTY
& SERVICE
Official warranty under the contract: 1 year for the door, 30 years for the metal structure. Lifetime service for all work. Just call about the problem
Clear and simple terms of cooperation: we pay you 10% of the order value for each new client!
Fill out the Google form and we will immediately link the discount to your phone number

After the client calls your phone, he will also receive a 10% discount on his order

Immediately after the prepayment, we will contact you and transfer partner 10% in a convenient way

We make discounts not by raising the price, but by saving on advertising and marketing
Kyiv, metro Hippodrome
50/2, M. Lomonosov st.
Working hours: Mon-Fri from 09:00 to 18:00
/by agreement – at any time/
Mykolaiv, Solyany district
1 Beregovaya st.
Working hours: Mon-Fri from 08:00 to 17:00; Sat from 08:00 to 12:00
FACTORY:
INTERIOR DOORS & FURNITURE
Mykolaiv, Varvarovka district
3V Tourists alley
Working hours: Mon-Fri from 08:00 to 17:00; Sat from 08:00 to 12:00